3rd – 4th March – Executive Education Program 2014 – Consumers' Protection in Europe – What impact on Asia-Europe's Trade?
EXECUTIVE EDUCATION OPEN PROGRAMM
Consumers' Protection in Europe
What is the impact on Europe-Asia trade?

Monday 3rd March 2014- 9:00 am to 4:00 pm – Tuesday 4th March 2013 – 9:00 am to 1:00 pm
KEY BENEFITS
The European rules of consumers' protection:
persons covered,
Statutes: product safety, unfair terms, services,
implementation by the domestic legislators,
Application by domestic and European courts.
TARGET AUDIENCE
The Consumer protection in Europe programme aims the participants to acquire knowledge of European Consumer law. The target audience is executives of companies entering or expanding in the European market or board members, lawyers of major law firms concerned and their overall management, and senior legal advisers or in-house counsels in various functional areas who need to inform themselves about the recent actuality of process and application of European rules related to consumer protection.
SPEAKER'S PROFILE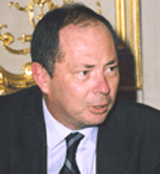 Laurent LEVENEUR
PhD, is Professor of Law at Pantheon-Assas University, (Sorbonne-Universities Paris)
He is member of the Board of the directors of Assas University. His main areas of expertise are: Private Law (contracts, torts, succession); Consumer protection; Insurance.
He is the author of numerous publications on these subjects especially in a review he founded more than twenty years ago (Contracts, Concurrence, and Consommation). He is the leader of two teams of authors who publish every year the French Civil Code and the Consumer Code (LexisNexis), annotated with thousands of case-law references.
He has a long experience of unfair contractual terms, working from 1991 to 2008 as a member of the French Commission des clauses abusives (Unfair terms Committee), set by the Ministry of economy.
Paris-Panthéon-Assas University | International
OVERVIEW:
Consumers' protection in Europe
What is the impact on Europe-Asia trade?
For more than thirty years, the European Community and now the European Union does not only aim to establish a wide internal market, comprising an area without internal frontiers in which the free movement of goods, persons and services and capital is guaranteed; but the European Union also pursues a consumer protection policy. One of the aims of the European Union is to reach a high level of consumer protection in all Member States.
Therefore a Community consumer law settles progressively, and especially by means of Directives. Directives are not directly applicable to private persons, as they have to be transposed in the legal order of the Member States by national laws, regulations or administrative provisions. In the field of consumer protection, the European Directives have a minimal nature: Member States cannot adopt or maintain a lower level of protection in the area covered by those Directives, but they may introduce or maintain in this area more stringent provisions to ensure a higher level of consumer protection. So a common set of minimum rules of consumer law is effective no matter where goods or services are purchased within the 27 countries of the European Union.
In some of those countries, protection is higher than the common minimal set. France is one of these, because it has a long tradition of consumer protection, and it was often ahead of European Directives.
For foreign professionals, especially from Asian countries, who are interested in businesses in Europe about consumer goods or services, it is crucial to know both the basis of European minimum set of consumer protection and the higher level which can be reached in a Member State like France.
Contracts (sale, services supplying) are the main way of relation between professionals and consumers. Therefore the two most important aspects of the consumer protection affect, on the one hand, the concluding of the contract, on the other hand, the subsequent period, especially after the sale of products.
We shall examine in European Directives, with a focus on French law:
Consumer protection during the concluding of the contract : protection of the consent
Fight against unfair contractual terms
Consumer protection after the sale of goods : liability for defective products
Rights of the consumer in the case of lack of conformity
DATES AND FEES
| Dates | Length | Location | Tuition Fees* |
| --- | --- | --- | --- |
| March 3, 2014 and March 4, 2014 | 1,5 Day | Singapore | SG$ 1,250 SGD/per person |
The participants are advised to arrive the evening before as the programme begins early in the morning.
REGISTRATION:
Download our Registration Form: Consumer protection in Europe and send it completed to: rania.soppelsa@assas-international.com
CPD Accreditation
CPD points: Public CPD Points.
Practice area: Corporate / Commercial.
Training category: General.
Attendance Policy
Participants who wish to claim CPD Points are reminded that they must comply strictly with the Attendance Policy set out in the CPD Guidelines. This includes signing-in on arrival and signing-out at the conclusion of the activity in the manner required by the organiser, and not being absent from the entire activity for more than 15 minutes. Participants who do not comply with the Attendance Policy will not be able to obtain CPD Points for attending the activity.
Please refer to http://www.sileCPDcentre.org.sg for more information.
INQUIRIES AND REGISTRATIONS: Please contact us at +65 6799 5500 Ext 209 or + 65 9326 7406
Email to rania.soppelsa@assas-international.com
https://assas-international.com/wp-content/uploads/2022/09/Pantheon-Assas-International-logo-retina.png
0
0
SA-ILS team
https://assas-international.com/wp-content/uploads/2022/09/Pantheon-Assas-International-logo-retina.png
SA-ILS team
2014-02-15 03:03:00
2018-12-13 14:40:55
3rd – 4th March – Executive Education Program 2014 – Consumers' Protection in Europe – What impact on Asia-Europe's Trade?