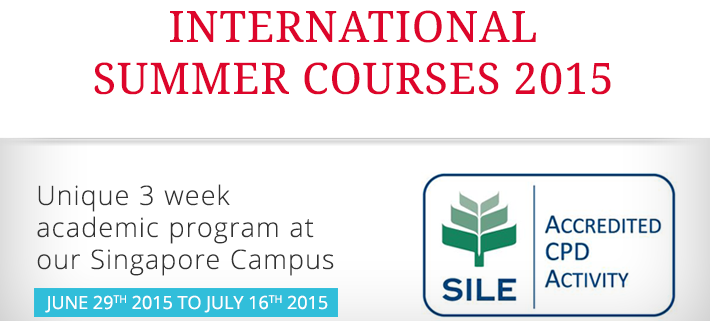 International Summer Courses – June 29th 2015 to July 16th 2015
The summer courses, delivered by Sorbonne Assas International Law School, have been created to introduce master level or LLB or professionals to International Finance legal aspects.
This unique 3 week courses will allow students or professionals from all over the world to understand various practices related to the International financing corporate structures, financial structures, commitment papers, and tax law with a legal practitioner's perspectives.
The Sorbonne Assas International Law School Singapore campus is located in INSEAD Business School campus, easy access, and relaxed environment.
The summer program is also an opportunity to discover the city of Singapore.
CURRICULUM
The courses offered by the program include:
Corporate Structures in different countries in Asia
Commercial and Contractual Agreements: Outline of sale and purchase agreement, distribution agreement, license agreement together with loan agreements.
Corporate Structure and M and A: you will compare the pro and cons of setting up a wholly-owned enterprise, a joint venture, a representative office and/or branch across the various jurisdictions in the region using different case studies.
International Financing
International Structured Finance and Derivatives: in the manufacturing and production, especially in the infrastructure sector. This course will allow the attendee to examine various practices related to structuring, documentation and execution of structured finance and derivatives transactions.
International finance introduction and commitment papers.

Credit agreement workshop
Subordination; Subordinated Debt
Inter creditor and other issues
International Tax law
The tax part will entail
(a) a general overview of corporate and individual taxes,
(b) double tax treaties (the "DTT") and how to effectively use DTT and
(c) free trade agreement including PPP in the ASEAN region.
FACULTY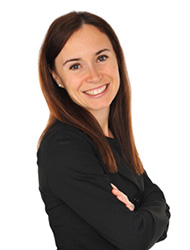 Caroline Bérubé
HJM Asia Law - Managing Partner
Caroline Bérubé is the Managing Partner of HJM Asia Law (with offices in China and Singapore). She is admitted to practice in New York and Singapore and holds a BCL (civil law) and an LL.B. (common law) from McGill University, Canada. She studied Chinese law at the National University of Singapore in the 90s and was one of the first foreign lawyers to be admitted to Singapore.
Caroline has been working in Asia for more than 17 years with SMEs, MNCs and foreign banks, advising them in the fields of commercial law, IP, HR and M&A. With an extensive presence on the ground in Asia, she is well versed in the opportunities and risks associated with most Asian jurisdictions.
Caroline is a lecturer at the Laval University in Canada and Sorbonne-Assas Law School - Asia Campus. She is also a regular speaker at various international universities, seminars and conferences, giving over 50 presentations per year. Caroline holds several senior positions in international legal organizations such as the International Bar Association, Inter-Pacific Bar Association and Primerus. In 2015, Caroline was selected as the Young Global Leader by the World Economic Forum, which recognizes the most distinguished leaders under the age of 40.
Paris-Panthéon-Assas University | International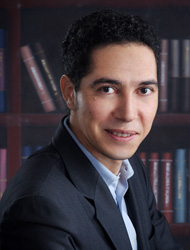 Mohamed Dafir
Volguard - Managing director
Mohamed Dafir has over 10 years of experience in Financial Markets and Research and Development. He is based in Singapore and was, most recently, Regional Head of Commodity Structuring at Standard Chartered Bank since 2009.Dafir has negotiated and structured financial solutions for a broad sector of government entities, investors and industries including airlines, mining companies, the agriculture sector as well as financial services.
Previously, Mr Dafir served as Head of Asia commodity Structured Notes, Exotics and Hybrids at Merrill Lynch, where he was responsible for structuring and trading some of the most innovative financial solutions. He also worked as Trader at Credit Suisse, where he was responsible for Structured Credit Derivatives and Commodities.
Mr. Dafir started his career in Research and Development with the European Space agency and Alcatel. Mr Dafir holds a bachelor degree in Mathematics, an MSc in Automation from a French Grande Ecole, a Post Graduate Research Degree from the National Polytechnic Institute of Toulouse and an MBA from INSEAD.
Paris-Panthéon-Assas University | International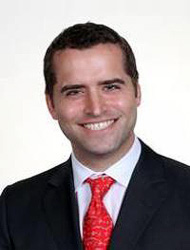 Tim Fourteau
Latham & Watkins - Associate
Tim Fourteau is an associate in the finance department of Latham & Watkins in Singapore. Tim?s practice covers a variety of transactional matters including project development and finance transactions, bank and acquisition financings and private equity transactions. Tim has experience representing lenders, underwriters, sponsors, developers and private equity investors in connection with a wide variety of international projects.
He has recently worked on several award winning deals, including the US$2.63 billion financing of Jurong Aromatics Corporation Pte. Ltd in Singapore and the US$2.97 billion financing of the Hongsa coal-fired mine-mouth power project in Laos PDR. Prior to joining Latham in early 2011, Tim practiced in the New York office of Freshfields Bruckhaus Deringer. Tim has written on project finance for the Latin Lawyer publication.
Tim is fluent in French, Spanish and English.
Paris-Panthéon-Assas University | International
SUMMER COURSES INFORMATION
This course deals mainly with practical case studies and certain key subjects.
Our course will focus on different corporate structures possible in different countries in Asia and related legal aspects such as HR, IP, commercial contracts and tax taking into account the legal and compliance requirements in China, Malaysia, Indonesia, Singapore and Hong Kong.
ELIGIBLE TO APPLY FOR THE SUMMMER COURSES
Participants are required to have reasonable good level of speaking English as the program will be conducted in English.
CERTIFICATE IN INTERNATIONAL BUSINESS LAW
The school will issue a certificate in International Finance Law at the end of the summer program for all the participants.
CULTURE AND NETWORKING
We will organize a visit of Singapore; we will take you on Singapore City Gallery where you will discover the story of the nation's planning efforts, physical transformation – past, present and future.
A visit of one of the international organizations based in Singapore, or any institution, bank, law firm, or corporation to give you a much better understanding of Singapore and the Supreme Court of Singapore.
APPLICATION AND FEES
Registration is open for ever yone with master level or LLB, executives or legal practioners.
Summers courses schedule:
June 29, 2015 (Monday) to July 16, 2015 (Thursday)
Program fees: including: courses, documentation for courses and case studies, participation to incentive events.
Option 1: 3 200 Euros with housing (19 nights in twin rooms or 2 bedrooms apartment)
Option 2: 2 500 Euros without housing
Does not include: airfare & travel expenses in and outside Singapore, return tickets from field trip destination, extra nights(19), insurance, meals and other living expenses.
SILE ACCREDITED CPD ACTIVITY
CPD points: 37 Public CPD Points.
Practice area: Corporate / Commercial.
Training category: Intermediate
More information and application

: rania.soppelsa@assas-international.com
https://assas-international.com/wp-content/uploads/2015/06/Summer-courses-2015.png
375
710
SA-ILS team
https://assas-international.com/wp-content/uploads/2022/09/Pantheon-Assas-International-logo-retina.png
SA-ILS team
2015-06-03 01:40:28
2018-12-13 14:40:50
International Summer Courses – June 29th 2015 to July 16th 2015