Visiting Lecturers – LL.M. Program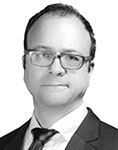 Jean-François Boisvenu
Visiting Lecturer
Before moving to Mauritius in 2009, Mr Boisvenu was a partner at the Canadian law firm McCarthy Tétrault, where he had practiced since being admitted to the Quebec Bar in 1996. In Mauritius, Mr Boisvenu joined BLC Chambers (2009-2014), and then moved on to become AfrAsia Bank's first Group Head Legal (2014-2017), where he set up and lead the legal department. He returned to private practice in 2017 as a partner at Eversheds Sutherland (Mauritius), where he heads the banking and finance practice.
He assists clients in corporate and commercial matters, with a particular expertise in international banking transactions, lending and debt capital markets transactions, financial institutions regulation and offshore companies set-up.
He is a member of the Quebec Bar (Canada) and a registered foreign lawyer in Mauritius. He graduated from the École des Hautes Études Commerciales in Montréal (Applied Economics) and the Law School of the Université de Montréal.
Mr. Boisvenu has given lectures, conferences and proficiency courses for legal practitioners and business people on issues related to his areas of practice. Since 2017, he has been a visiting lecturer in Mauritius in the LLM Program offered by the Sorbonne – Assas International Law School.
Paris-Panthéon-Assas University | International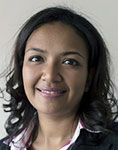 Johanne Hague
Visiting Lecturer
Johanne is a partner at the firm and heads the Tax practice. She was admitted by the Law Society of England and Wales as a solicitor of England and Wales in September 2007.
Prior to joining Juristconsult Chambers, Johanne worked at the London offices of J.P. Morgan Chase Bank and at magic circle law firm, Linklaters LLP. Johanne's practice areas cover various aspects of corporate, banking and commercial law, with particular focus on tax and finance. She has considerable experience on tax legislation in the UK, Mauritius and a number of emerging markets and regularly advises on international aspects of cross-border transactions and structuring of investment funds, with particular focus on India and Africa-related transactions. She also has significant experience in various types of financing products, including conventional loan finance, securitisation, project finance, Islamic finance, derivative instruments as well as equity and debt capital markets. She has developed expertise in the new FATCA and Common Reporting Standard legislation and regularly delivers tax training and seminars.
Paris-Panthéon-Assas University | International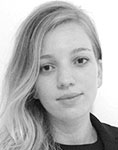 Valentine Mayer
Visiting Lecturer
Valentine is a practicing barrister. Shewas called to the Bar of England and Wales at the Honourable Society of the Middle Temple in November 2013 and subsequently admitted to the Mauritian bar in September 2015. Valentine also has a Bachelor of Arts in Politics and International Relations.
Valentine is an associate at ENSafrica (Mauritius), the Mauritian Branch of Africa's largest law firm. She specialises in civil litigation and dispute resolution,and has extensive experience appearing before different judicial fora, including statutory tribunals.Whilst dealing with a wide range of cases across different areas of law, her main areas of practiceare competition law, employment law andenvironmental law.In terms of her environmental law experience, Valentine appears before the Environment Land Use and Appeal Tribunal and has, for instance, successfully represented an association of hotels and restaurants in appealing against the grant of an Environmental Impact Assessment licence for a fish farming project. She further regularly assists and advises promoters during different stages of the application process for permits and/or licences.
Valentine is a co-lecturer in Environmental Law for the LLM International Business Law programme and has taught this module since 2016. She has also co-lectured the Communication Skills module for the LLB programme for the academic years 2019 and 2020.
Paris-Panthéon-Assas University | International
Jamsheed Peeroo
Visiting Lecturer
Jamsheed is an arbitrator, an arbitration counsel and a dual-qualified barrister practising at the Bar of England and Wales (36 Stone), the Mauritian Bar (Peeroo Chambers), and before theDIFCCourts.
Jamsheed was trained at 3 Verulam Buildings (3VB) and has worked in the International Arbitration Group of Freshfields Bruckhaus Deringer in Paris.
Over the years, Jamsheed has worked on a wide range of high-profile matters in several continents. He was recently nominated for the African Arbitration Award of African Arbitrator of the Year and, his team, for Best Case Counsel Team.
Hispractice focusses on international commercial and investor-State arbitration, on complexcommercial and corporate cross-border litigation and on arbitration-related court proceedings, including before the Privy Council.
He holds a PhD in International Arbitration law anda DEA in Private International and Commercial Lawfrom the Sorbonne Law School, and a joint LLM in International Business Law from the University of London.
Jamsheedis a member of the ICC Commission on Arbitration and ADR and a Vice-President of the MARC Advisory Board, where he was actively involved in drafting the MARC Arbitration Rules 2018. Jamsheed was also part of the working group drafting the Supreme Court (International Arbitration Claims) Rules 2013.
He has taught contract law and torts (responsabilité civile) at the Sorbonne Law School, and Mediation and Arbitrationin the Law Practitioners' Vocational Course in Mauritius. Jamsheed teaches International Arbitration Law within our LLMin International Business Law.
Paris-Panthéon-Assas University | International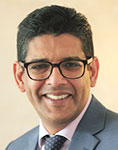 Roshan Ramoly
Visiting Lecturer
Roshan has worked in the financial services and banking industry for more than 15 years at senior managerial levels and holds an MBA from Durham University Business School. He has worked for 10 years with the Cim Group, where he was also responsible for the strategy formulation and tracking of the group companies. He completed his career with the group as the Managing Director of Cim Stockbrokers, the largest stockbroking firm in Mauritius, while simultaneously being the Chief Executive Marketing, Communications and CSR for group. Roshan joined Barclays Bank Mauritius from 2012 to 2014 and was responsible for a number of functions namely, Strategy, Customer Experience, Marketing, Communications and CSR.
Currently he is the Director of LinearArc Solutions that promotes growth in individuals through mentoring programs; companies with customised learning programs; and startups through its business incubator/accelerator. Roshan also acts as an independent director on a number of boards including Bluelife (a listed company) and SBM Capital Markets.
Additionally, Roshan is a resource person for the University of Mauritius as well as the Université Panthéon-Assas (Paris II) and Centrale de Nantes (Mauritius campus) and covers topics such as Banking Strategies, Intercultural Management, Financial Markets and Entrepreneurship.
Paris-Panthéon-Assas University | International