As is the case across all our international campuses (Dubai, Paris and Singapore), this LL.M. International Business Law is a 'Diplôme d'Université' Masters programme awarded by Paris-Pantheon-Assas University (Bac+5 level).
— HEC Accredited —
We create a culture of Excellence.
It's our "golden rule".
Open to all professional profiles
This programme is not exclusive to legal practitioners
Evening classes
10-month programme, no dissertation or thesis required
Executive level programme
Undergraduate degree + work experience required
International expertise
Classes taught in English by Paris-Pantheon-Assas University lecturers and international experts
The LL.M. International Business Law:
get to the next level in your career
The LL.M. (Legum Magister) in International Business Law is an innovative law programme taught in English on
our 4 campuses: Dubai, Mauritius, Paris and Singapore.
In Mauritius, it is offered on the Uniciti International Education Hub's Pierrefonds Campus since 2015. It is a 10-month programme with evening classes to suit professionals. Modules mainly deal with practical case studies and certain key subjects, with a pluridisciplinary focus.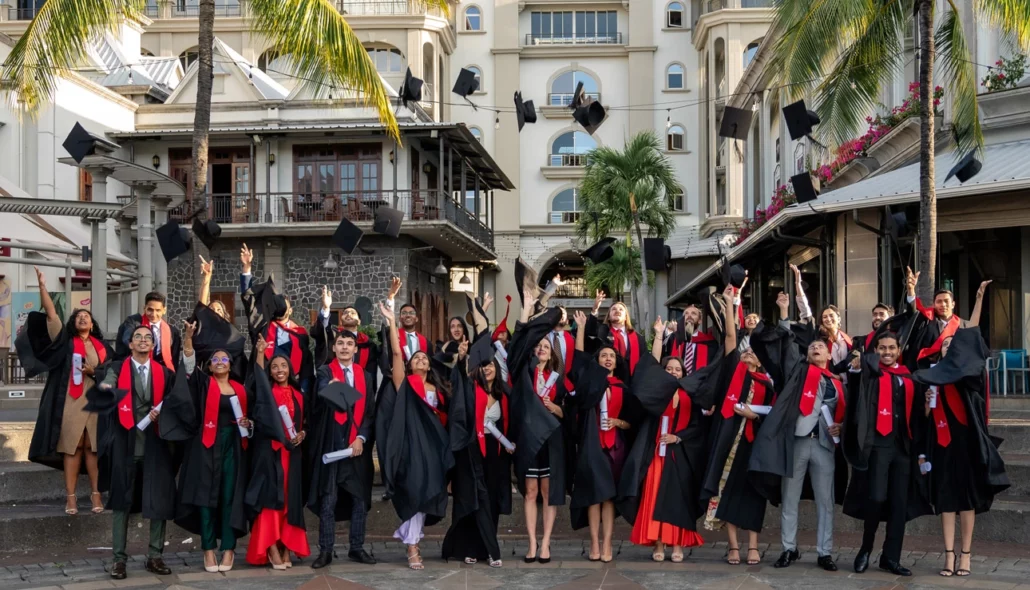 Alumni network
Join a network of 100,000+ alumni worldwide and more than 80 Mauritian alumni!
The LL.M. aims at expending lawyers, new managers and jurists' knowledge on specific European and International Law issues. It prepares students and professionals for operations such as large acquisitions or market transactions, crossborder mergers, complex financing, restructuring, LBOs, financial engineering, and industrial projects. French Bar School students may also apply to this programme as part of their PPI (Projet Professionnel Individualisé).
A prestigious law school building on its history to foster a culture of excellence
Paris-Pantheon-Assas University, considered as France's first law university and home to the origins of French Law, holds 800+ years of history. Its extensive (300+) partnerships with prominent international universities as well as with major financial and industrial firms today ensure its graduates a solid foothold in the corporate world, true to its versatile nature translated through the institution's vision.
In line with its internationalization strategy, the University launched in 2011 Assas International; a brand which houses 4 campuses across the world in Dubai, Mauritius, Paris and Singapore.
LL.M. Modules
The LL.M. includes 200 hours of teaching, 10 courses of 10 hours each, each course paired with a seminar of 10 hours.
What makes us different? Watch our videos to learn more
Why our alumni choose our programme
LL.M. Graduation Ceremony – Mauritius Campus
Testimonials

Rukhsaar BUDULLA
LL.M.'2019
"Getting insight from highly qualified professionals on both the international aspect and the local aspect surrounding all the modules has enabled me to gracefully switch from a career as a Legal claim handler in the offshore sector to a career in the Banking Sector.
For me, the recognition that is attached to this university was primordial as well as the quality of the various topics in the curriculum. As a plus point, I got to avoid writing a lengthy dissertation which would not have been easy with my job. My advice to anyone who is thinking of enrolling into the course is to go for it. It's definitely one of the best in Mauritius currently and would be a great stepping stone in their career."

"The modules have enabled me to acquire expertise in subject matter thereof including advising on international contracts. I have also gained immense expertise in structuring Public Private Partnership (PPP) initiatives under different models.
This programme is for those who want to succeed in their profession by making use of the important tools and knowledge which you would acquire throughout the programme. Passing the exams is one thing but succeeding in your profession is another thing. Now that you are in it, engage with your teaching staffs who have immense knowledge and experience for you to partake. Don't lose these opportunities."
Genevieve TALBOT
LL.M.'2019
"I did the LLM at a time in my professional career when I needed to be challenged intellectually and to broaden my career prospects. The LLM was a perfect match.
The wealth of knowledge and experience of the Pantheon Assas Professors, coupled with the sharing of the practical application by our own local handpicked experts was invaluable in making the legal concepts come to life. Since I have completed the course, I am in a better position to understand the interconnectedness of international business law and to negotiate terms of business with my colleagues and clients across the world."
© 2023 All rights reserved​