Assas Welcome Desk: A warm welcome for international students on the Paris Campus
Paris-Panthéon-Assas University introduced in 2023 on its Paris campus a Welcome Desk to support and welcome International students coming to France for their studies.
The Welcome Desk aims to support international students as they arrive in Paris and throughout their stay. The Welcome Desk team advises and guides international students in their administrative procedures to facilitate their settlement in France. It also contributes to their successful integration into the university through cultural events , sports, and festive activities. Following the "Bienvenue en France" label, this initiative is in line with the actions implemented by the Paris-Panthéon-Assas University to prioritize the reception of over 3000 international students every year.
Going beyond the conventional notions of hospitality, the Assas Welcome Desk is emblematic of the institution's commitment to fostering a globalized learning environment that not only embraces cultural diversity but actively seeks to facilitate the integration and success of students arriving from various corners of the world.
Visit to the National Assembly of France
In this context, a group of 50 international students in Paris, accompanied by the Welcome Desk team, had the privilege of visiting the National Assembly of France in early October. These students, mostly law scholars and LL.M. students, were able to explore the Palais Bourbon, immerse themselves in the republican history of France, and understand the functioning of its institutions.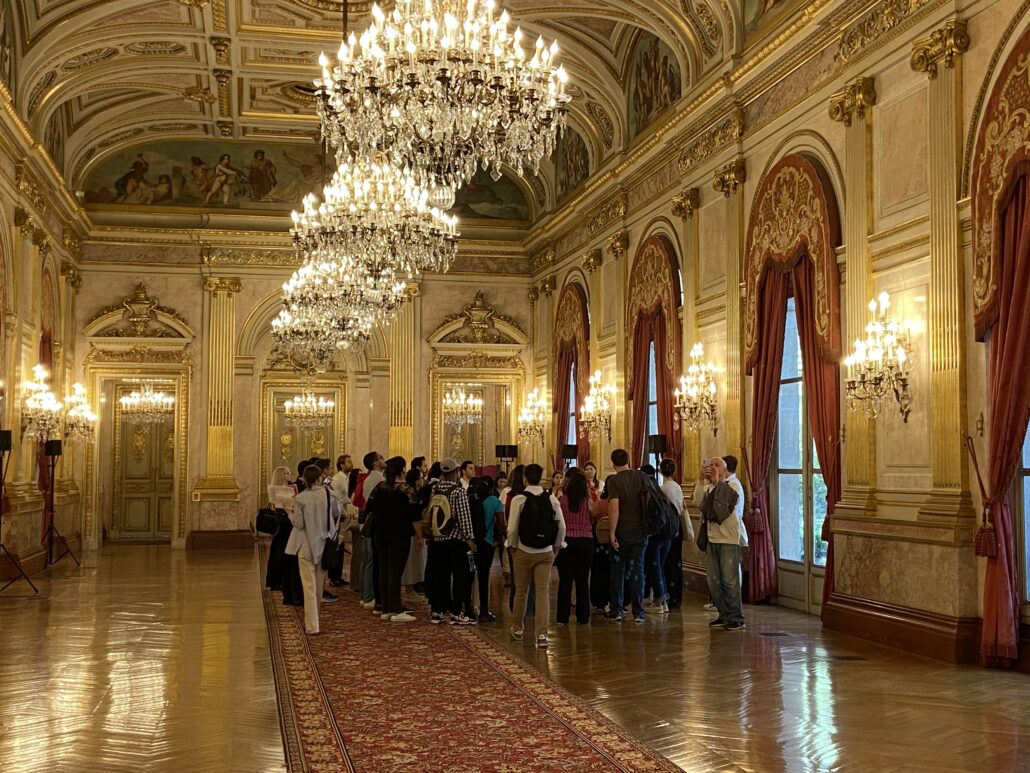 In the "Salon des quatre colonnes", the students encountered the President of the National Assembly, Yaël BRAUN-PIVET. A captivating visit, both in terms of its democratic significance and the beauty of the location, which will leave a lasting impression on the international students.
"It was an exceptional opportunity to discover the functioning of the French political system and to better understand our society. I also appreciate the university's commitment to providing such opportunities to its international students."
"I particularly appreciate that the University Paris-Panthéon-Assas is committed to creating cultural, sports, and other events as part of the various study programs."