Nancy Pelosi receives the insignia of Doctor Honoris Causa by Paris-Panthéon-Assas-University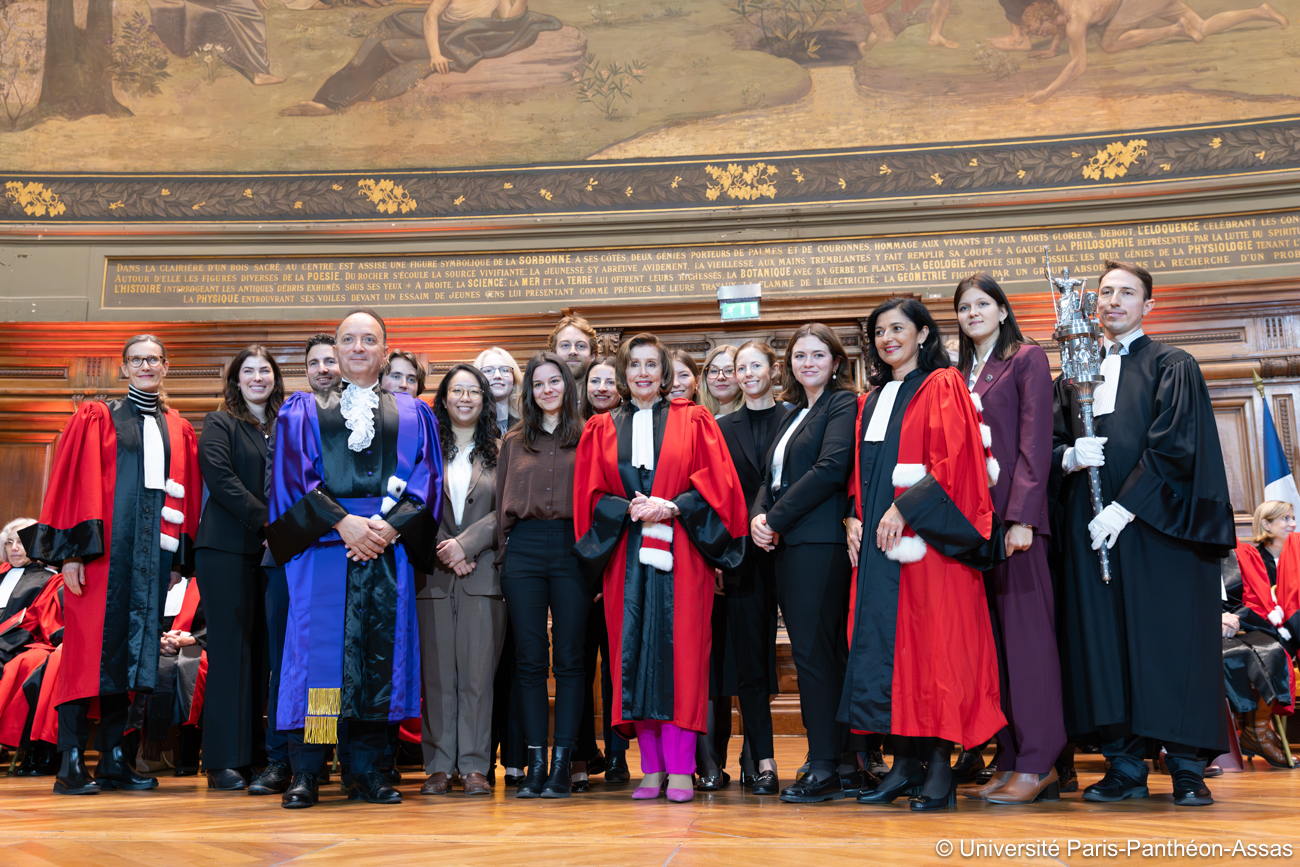 Throwback to the ceremony where the Doctor Honoris Causa distinction was awarded to Nancy Pelosi.
On November 6, 2023, during a solemn ceremony, the president of Paris-Panthéon-Assas University, Stéphane BRACONNIER, presented the insignia of Doctor Honoris Causa to the Honourable Nancy PELOSI, Speaker Emerita of the House of Representatives of the United States of America.
The ceremony took place in the Grand Amphithéâtre de la Sorbonne in the presence of Denise CAMPBELL, Ambassador of the United States to France, Christophe KERRERO, Rector of the Academy of Paris, Yaël BRAUN-PIVET, President of the National Assembly, and the university's vice-presidents and professors.
Nancy PELOSI was honoured for her commitment as a warrior for justice, an ardent defender of the rule of law and deeply committed to democracy and its values.
Addressing the audience, Nancy Pelosi warmly expressed her gratitude and excitement for receiving this prestigious honour: "It's a great pride for me to return to France and humbly accept your honorary doctorate of laws. I'm personally so gratified to receive it. But I do so on behalf of my many colleagues in the Congress of the United States, who had the courage to make many of the things that you discussed possible."
Read Speaker Emerita, Nancy Pelosi full speech here.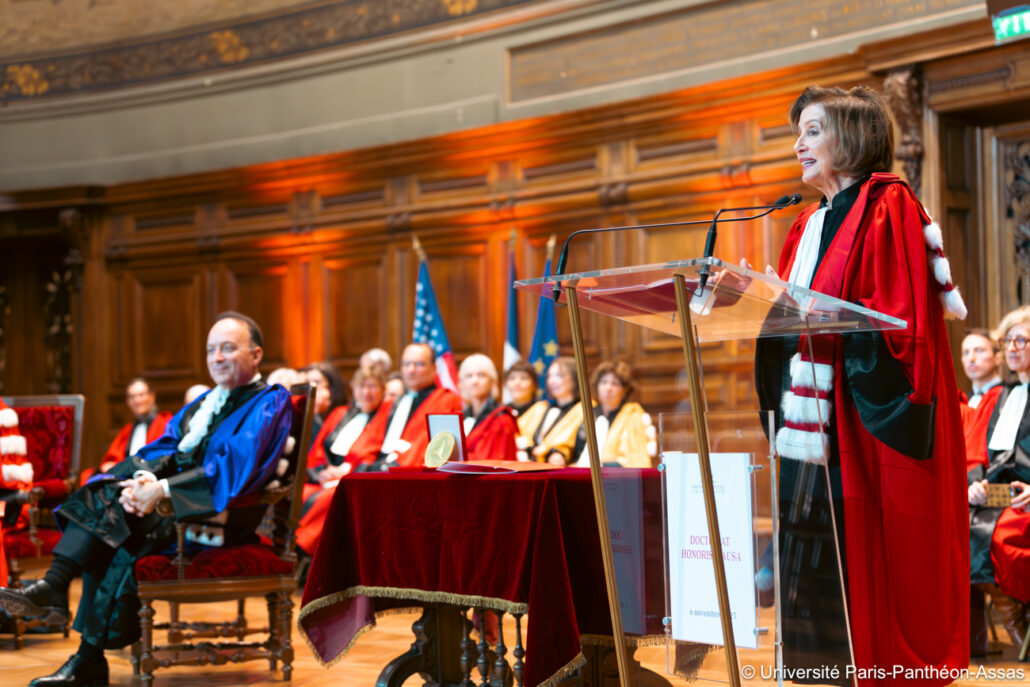 Tribute to Nancy Pelosi by Professor Emmanuelle Chevreau
Prior to the conferral of her Doctor Honoris Causa insignia by the university president, Emmanuelle CHEVREAU, Vice-President in charge of international affairs for the university and patroness of the honoree, introduced Nancy PELOSI and emphasised, in particular, on her inspiring career path. She paid tribute to Pelosi, acknowledging the prestigious honour as the third female politician receiving an honorary academic distinction at the Grand Amphithéâtre de la Sorbonne.
Professor Chevreau traced Pelosi's extraordinary journey from a non-political background to becoming the first female Speaker of the House. She highlighted Pelosi's ground-breaking achievements, her commitment to improving healthcare, defending human rights, and advocating for democracy. Professor Chevreau underscored Pelosi's unwavering dedication to serving the American people, emphasizing her courageous stands both within the United States and on the global stage: "You have served for 36 years, always driven by a singular goal: to serve the American people and ensure everyone, especially the most vulnerable, enjoys their rights and a decent life. Your unparalleled legislative accomplishments reflect your unwavering devotion to the American people."
Read Professor Emmanuelle Chevreau full speech here.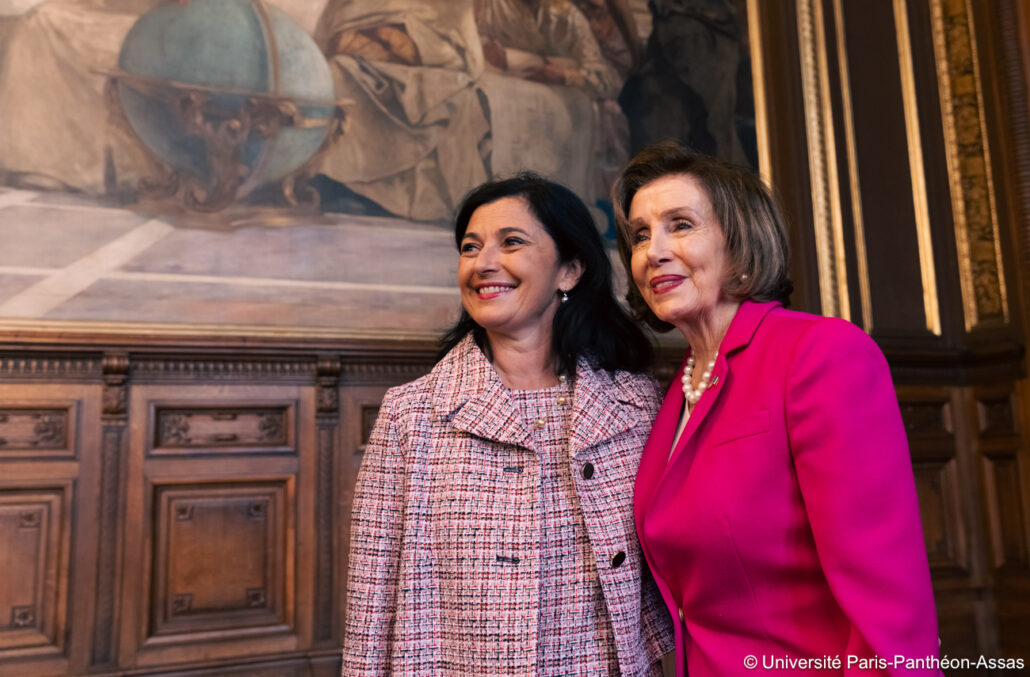 About Nancy PELOSI
Nancy Pelosi, a prominent figure in American politics, began her political career as the Representative of California's 5th district in the United States House of Representatives in 1987. In 2001, she became the first woman to assume the parliamentary role of House Minority Whip and later Minority Leader in 2003. Pelosi made history again in 2007 by becoming the first woman to serve as Speaker of the United States House of Representatives, a position she held until 2011 and then again from 2019 to 2023.
As Speaker of the House, Nancy Pelosi played a vital role in formulating and promoting key legislative policies across various domains including healthcare, the economy, civil rights, the environment, and national security. Her leadership was characterized by significant achievements, notably the enactment of crucial laws such as the Affordable Care Act, commonly known as Obamacare.
She is recognized for her dedication to social justice and equality. Pelosi's political career is defined by her commitment to public service and her pioneering role as a woman holding a position of power in the United States government. Her humanistic convictions have driven her tireless advocacy for human rights, the Rule of Law, and democracy.
In the fight for democracy, 'Nancy Pelosi stands as a precious source of inspiration, a powerful ally, an exemplar that the university sought to honour by awarding the honorary degree of Doctor Honoris Causa in Law,' concluded President Stéphane BRACONNIER.
Read President Stéphane Braconnier full speech here.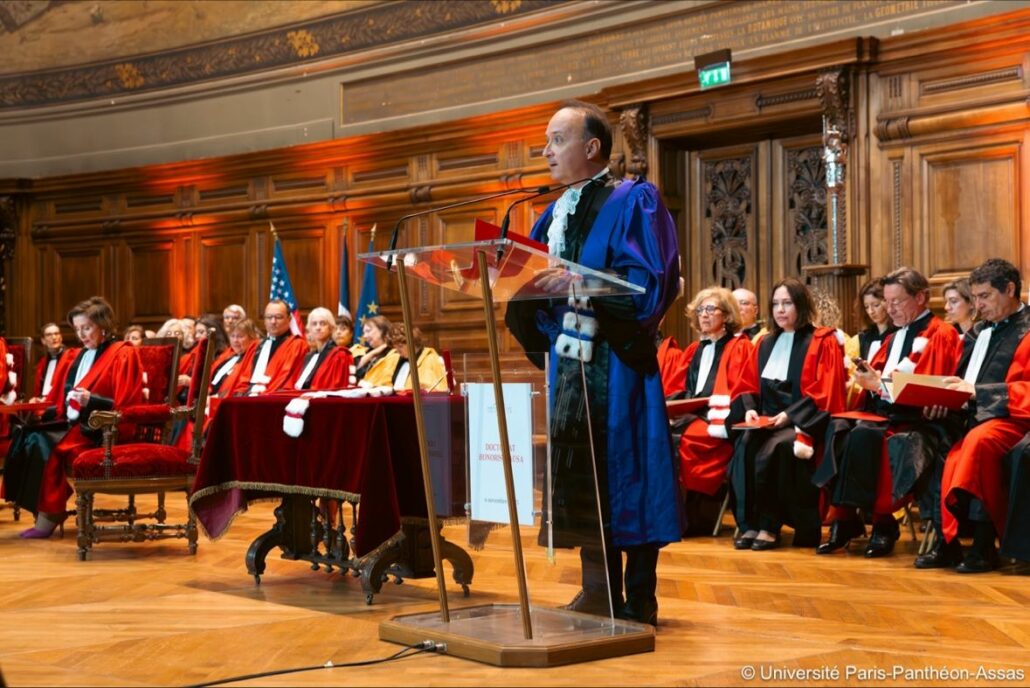 The ceremony concluded with a testimony from Polina PIDHORODYNSKA, a second-year law student at Université Paris-Panthéon-Assas, who thanked the university for its hospitality and Speaker Emerita Nancy Pelosi for her unwavering support for Ukraine: "Today I am a student in France but ultimately, I would like to go back to Ukraine, my native country, a country which is fighting for the values of democracy and freedom. We lead this fight with vital support from our partners in Europe and the United States. Madam Speaker Emerita, Mrs Pelosi, I would like to thank you from the bottom of my heart for your infallible commitment in favor of Ukraine and Ukrainians…"
Read Polina Pidhorodynska full speech here.