Paris-Panthéon-Assas University Scholarship Programme [MAURITIANS ONLY]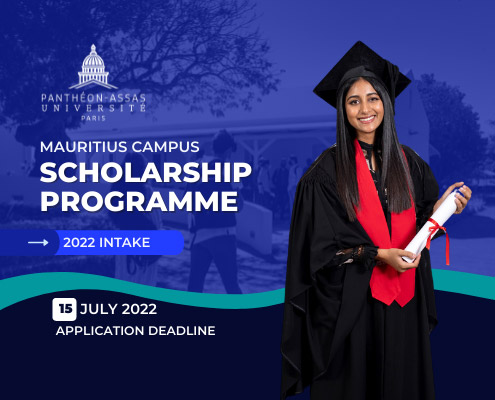 Université Paris-Panthéon-Assas is proud to launch its first undergraduate scholarship programme in Mauritius for its Bachelor of Laws, LL.B. (Hons)!
The programme aims to award partial scholarship equivalent to 50% of the yearly tuition fees to deserving students on the basis of need and merit. Candidates must be citizens of the Republic of Mauritius and must demonstrate a commitment to contribute to the social and/or economic development of Mauritius.
Scholarship Application Guidelines
In order to be eligible to apply for the scholarship, candidates should match the criteria below:
Be a citizen of Mauritius;
Prove above average academic performance, possess a broad general education and have a distinct interest in the law field;
Be open to develop their personal points of view and be highly motivated and able to convince us of their goals in life;
Must have received either a Full or Conditional Offer on the Bachelor of Laws, LL.B. (Hons) programme;
Submit their Scholarship Application by the 15th of July, 2022 at latest.
⟶ For more information, please contact ils.mauritius@u-paris2.fr or (+230) 55 09 72 00.