Where are they now? Virginia Pisco Amador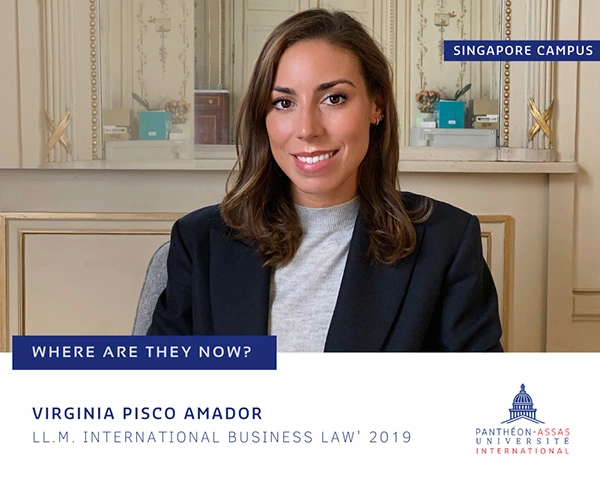 Testimonial of Virginia Pisco Amador (LL.M. International Business Law' 2019 – Singapore Campus)
1. Can you introduce yourself?
Currently living in Paris. I've been working in the fashion luxury industry for 8 years now. I've had the chance to live in a few different cities such as London, Lisbon and thanks to the LL.M program, Singapore.
2. What is your current job (or academic program enrolment)?
I'm currently fulfilling the role of Store Coordinator for the Gucci flagship store in Paris. I coordinate a team of about 80 people and support the daily business activity of one of the most beautiful luxury stores in the world, in collaboration with our main offices in Paris and Italy. My job is very dynamic and versatile, which means I never have a dull moment.
3. How has graduating from the LLM International Business Law enabled you to advance in your career/academic path?
I started working in the luxury industry right out of law school at the age of 22 and hit a point in my career where I sensed that I needed to further deepen my legal education in a more international perspective. Thanks to the very diversified and complete program in Singapore, I developed a 360° vision of International Business Law and a large set of soft and hard skills. This enabled me to seek out a high responsibility job in a very competitive industry, thus progressing in my career.
4. What are the reasons which made you choose to pursue the LLM International Business Law delivered by Assas International, Singapore Campus?
I chose to pursue this program specifically, due to the large array of subjects in the syllabus that were aligned with my field of work and would give me the tools necessary to upgrade my career profile. It is also one of the most prestigious Law Universities in the world, with renowned professors teaching the classes.
I was given the opportunity to join the Singapore campus which was also one of the main reasons why I chose this program, as the curriculum is completed with a few different workshops such as mediation, a visit to the WIPO headquarters and a few classes such as marketing, accounting, or negotiation; from the INSEAD program. Amongst a few other surprises that the Assas International, Singapore Campus prepares for us during the year.