DIFC and University of Paris II Launch Joint Business and Law Degree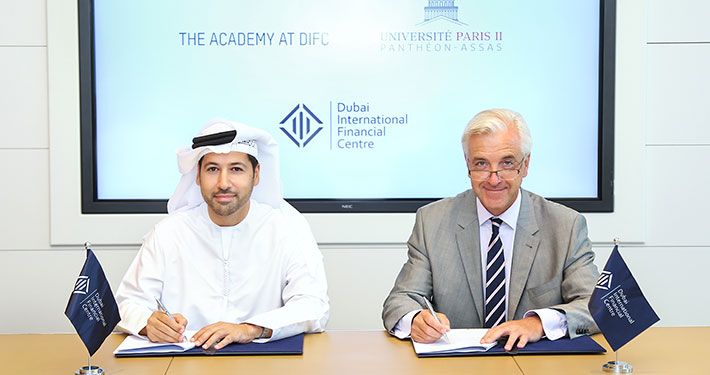 Partnership expands the Centre's professional development
University of Paris II joins world-renowned institutions that offer a diverse range of educational programmes from the Centre
Dubai, UAE: 16 September 2018 – Dubai International Financial Centre (DIFC), the leading international financial hub in the Middle East, Africa and South Asia (MEASA) region, announced today that The Academy, a state-of-the-art facility, curating a full range of impactful, regionally relevant executive education programmes, is entering into a partnership with The University of Paris II Pantheon-Assas. The agreement will support the launch of a joint Master of Laws (LLM) in International Business Law.
Arif Amiri, Chief Executive Officer at DIFC Authority and Professor Guillaume Leyte, President of University of Paris II Pantheon-Assas, signed the Memorandum of Understanding (MoU) in the presence of the French Ambassador to the UAE and Honorary Patron of the agreement, His Excellency Ludovic Pouille. Dr Nada Mourtada, the Secretary-General of the University Leadership Consortium (ULC) and Her Excellency Raja Rabia, the Consul General of France in Dubai also attended the signing ceremony.
The latest partnership will launch a business law degree in 2019 in Dubai and Paris. The degree is for aspiring young leaders, talented administrators, and managerial groundbreakers. The LLM International Business Law prepares students and professionals for operations such as large acquisitions or market transactions, cross-border mergers, complex financing, restructuring, leveraged buyouts (LBOs), financial engineering, and industrial projects.
Arif Amiri, Chief Executive Officer at DIFC Authority, said: "The Academy is a key pillar of our commitment to ensuring that Dubai remains at the forefront of human capital development across the region. Through our collaboration with University Paris II Panthéon-Assas, we continue to deliver on our promise to provide world-class programmes where UAE nationals, residents and professionals can enhance their financial knowledge."
"As we continue to bring in the best in class programmes to Dubai, I'm confident that The Academy will play an integral role in attracting talent and in supporting UAE Vision 2021's objective of developing a competitive knowledge-based economy."
Professor Guillaume Leyte, President of University of Paris II Pantheon-Assas, commented: "We are particularly proud to be signing this joint initiative to launch our flagship LLM Master's degree programme in International Business Law with the DIFC Academy under the patronage of the HE French Ambassador Pouille. Being recognised as the leading law school in France the University of Paris II could not have tied itself with a more pertinent strategic partner than the DIFC, which is legitimately acknowledged, far and wide, as the financial hub and the core business district of Dubai and well beyond. Law and International Business could therefore not have found a better intersection.
He added: We look forward to working together very closely with the DIFC leadership to offer the UAE youth and upcoming leaders through this focused joint programme a unique avenue to sharpen their capacity-building skills and widen their knowledge. More than a master's level degree, this joint programme in International Business Law therefore contributes to the strategic goals of knowledge economy the UAE steadily continues to earn and we are particularly proud to be part of these joint endeavours and of the continued initiatives aiming to strengthen the robust ties between France and the UAE as emphasized by HE French Ambassador Pouille during our launch event."
University of Paris II Panthéon-Assas extensive international partnership network provides future business leaders with opportunities to collaborate while keeping them updated with the latest themes and trends in the financial services industry. As the leading financial hub in the region, with the largest cluster of financial services institutions, DIFC has successfully provided world-class professional development to its dynamic community for over a decade.
Original Publication: https://www.difc.ae/newsroom/news/difc-and-university-paris-ii-launch-joint-business-and-law-degree/