Graduation Ceremony For LL.M. International Business Law – Dubai Campus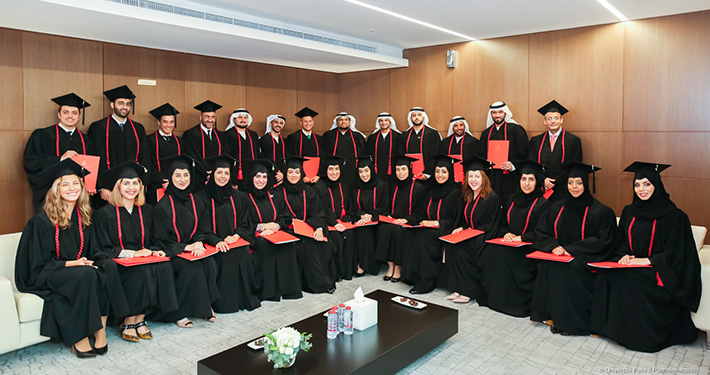 Class of 2020 was officially the first class to graduate since the Sorbonne Assas International Law School course was launched on the Dubai campus.
The 34 students from Paris 2 Panthéon-Assas University who enrolled in the LL.M. in International Business Law were awarded their degree on Thursday 27 February 2020 by His Highness Sheikh Mansour bin Mohammed bin Rashid Al Maktoum, His Excellency Sheikh Nahyan bin Mubarak Al Nahayan, Minister of Tolerance and Chairman of the University Leadership Council, Guillaume Leyte, President of Paris 2 University and Professor Nada Mourtada, Secretary General of the University Leadership Council, co-directors of the LL.M. programme.
The ceremony took place at the the Dubai International Financial Centre (DIFC), the leading international financial hub in the Middle East, Africa and South Asia region (MEASA), as well as being a place of study for students. The LL.M. in International Business Law course is run by Paris 2 Panthéon-Assas University in collaboration with The Academy, which has been operated from the DIFC since 2018.
Other illustrious names in attendance included His Excellency Ludovic Pouille, French Ambassador to the UAE, His Excellency Raja Rabia, Consul of France, His Excellency Essa Kazim, Governor of DIFC, Arif Amiri, CEO of DIFC Authority and Dr Abdulla Al Karam, Chairman of the Board of Directors and Director General of the Knowledge and Human Development Authority (KHDA).
Since 2011, Sorbonne-Assas International Law School of Paris 2 Panthéon-Assas University has provided top-level transnational degrees that open the door for their graduates to excellent roles, positions and qualifications in the law and/or business sectors.
The LL.M. in International Business Law is an innovative, top-level legal qualification that trains lawyers or professionals in international business law or deepens their knowledge of this field. Its interdisciplinary modules, taught by professors from Paris 2 Panthéon-Assas University and the finest local practitioners, make the LL.M. an excellent qualification that combines an analysis of the major legal concepts involved and control of rigorous and demanding practice. The LL.M. is open to lawyers at every stage of their career, as well as to professionals who can show they have extensive relevant experience, and can be a springboard towards an international career, preparing graduates for operations like major acquisitions, market transactions, cross-border mergers, complex financing, restructurings, leveraged buyouts (LBOs) and financial engineering.
Paris 2 University is continuing in its ambitious plans to expand internationally, placing it alongside other major business schools and universities from around the world that are already present in the region, in partnership with The Academy.