New programme : The Mauritius campus launched a BA in Economics and Finance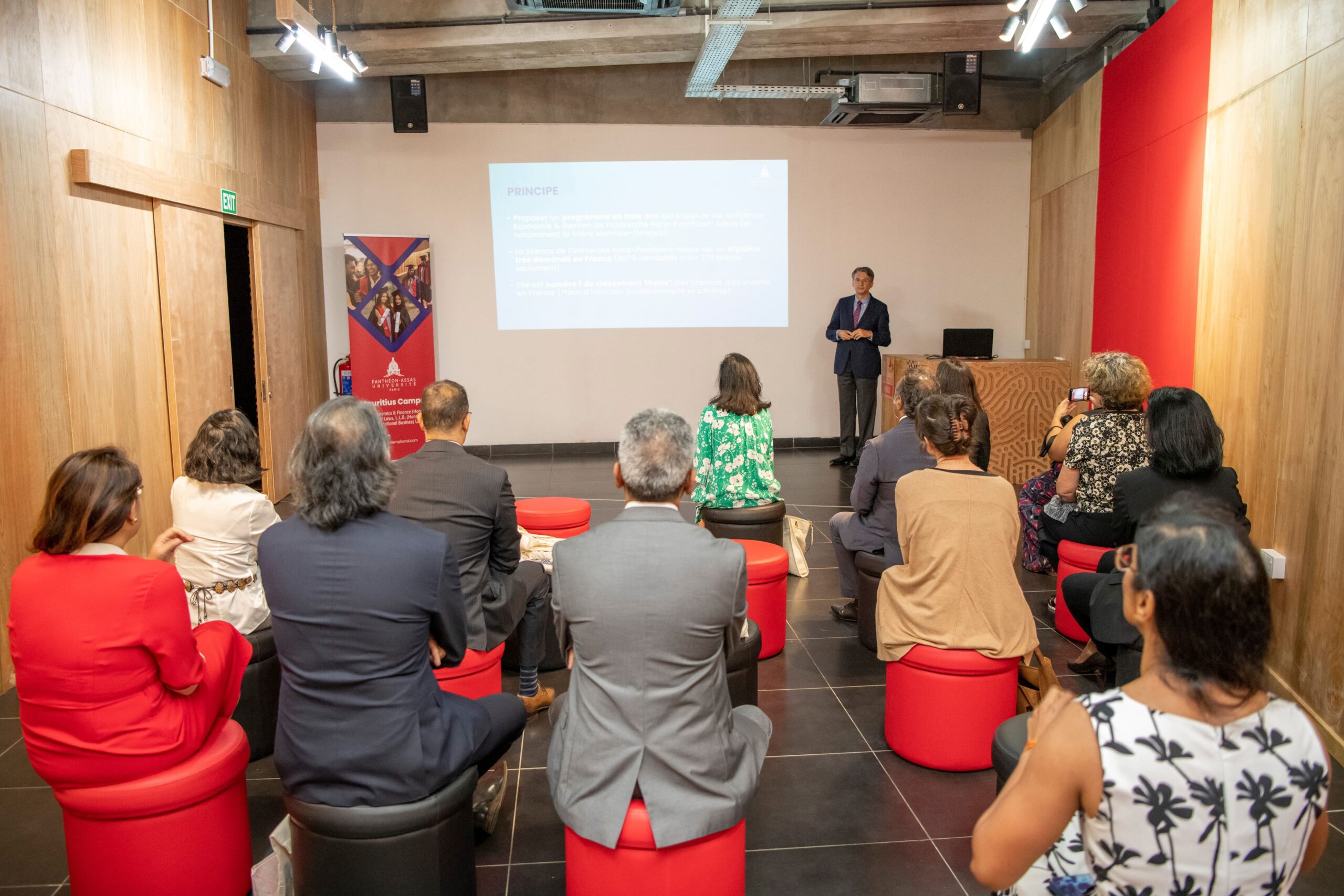 Paris-Panthéon-Assas University, renowned for its academic excellence, takes a significant step in its expansion to Mauritius with the launch of a brand new programme, the Bachelor of Arts in Economics and Finance (Hons). Applications are open from October 2023, with classes scheduled to begin in August 2024. This initiative marks a significant evolution for the French institution, which has been successfully established in Mauritius since 2015, in partnership with the Uniciti International Education Hub, and is particularly recognized for its outstanding performance in the field of law.
Paris-Panthéon-Assas University has already gained global recognition for its excellence in law, and this new educational offering continues that commitment by expanding its expertise into economics and finance, areas that already contribute to its strong reputation in Paris and Europe. As evidence, the Thotis ranking recently designated the university as the best institution in economics and management in France for the year 2023. Furthermore, several undergraduate programmes in economics and management at the university are also leading the prestigious Eduniversal 2023 ranking.
Currently, the university offers two programmes: a Bachelor of Laws, LL.B. (Hons), and an LL.M. International Business Law on its campus located in Pierrefonds, at the heart of the Uniciti International Education Hub.
As the Vice President of the university responsible for international affairs, Professor Emmanuelle Chevreau, states: "Our presence in Mauritius has been a resounding success, and we are thrilled to diversify our educational offerings to better meet the growing needs of Mauritian and international students seeking academic excellence. This expansion of our international presence reflects our ongoing commitment to providing high-quality learning opportunities and fostering cultural diversity within our institution."
A Programme Designed to Meet the Needs of the Mauritian Market
A study conducted in 2022 by the Ministry of Financial Services and Good Governance revealed a major shortage of qualified labor in the Mauritian financial sector, with between 2,000 and 2,500 positions currently vacant. According to Mauritius Finance, the demand for skilled professionals in areas such as private equity, investment management, fund management, and risk management is expected to continue growing in the coming years, given the approximately 1,000 investment funds currently established in Mauritius.
In light of this critical employment market situation, Paris-Panthéon-Assas University sees its mission as even more crucial. The goal in launching this programme is to address this growing demand by offering a high-quality academic programme specially designed to align with the specific needs of the Mauritian market.
Ekaley Joulia, Executive Director of Paris-Panthéon-Assas University for the Mauritius campus, emphasized the importance of this initiative: "We are proud to strengthen our presence in Mauritius through this innovative programme that meets the needs of the local market. We are aware that Mauritian professionals require specific expertise in finance, asset management, and risk management to excel in their careers and contribute to the economic development of the island. This new educational proposal illustrates our commitment to academic excellence and our active desire to support Mauritius' economic prosperity."
Programme Features
The new Bachelor programme taught entirely in English (like the university's other programmes offered in Mauritius), spans three full-time years and primarily targets young individuals who have completed their HSC, BAC, or hold an equivalent qualification. The objective is to attract Mauritian and international students to make Mauritius an international educational hub. The courses will be taught in-person by the same renowned professors who teach on the Paris campus, as well as professionals working in the financial and economic sectors in Mauritius. At the end of the three years of study, students will earn a French State License Degree, in addition to the BA in Economics and Finance (Hons) Institution Diploma. Students will also have the opportunity to extend their academic experience by choosing to pursue their third year of studies directly on the Paris campus. This option underscores our commitment to offering comprehensive and global education, allowing students to benefit from a enriching international perspective.
This programme is characterized by its broad-based approach while placing a strong emphasis on key areas such as mathematics, statistics, computer science, data science, and finance. This technical orientation prepares our graduates to successfully enter high-quality Master's programmes, as demonstrated by the past successes of our alumni in France. Thanks to this balanced education, our graduates are ready to excel in various professional fields, opening up promising opportunities.
Co-Dean of the BA in Economics and Finance (Hons) programme, Professor Bertrand Crettez, elaborates: "This programme reflects our commitment to expanding our academic offerings and thereby enriching our contribution to Mauritius' economic development. By promoting a broad-based approach while emphasizing essential technical skills such as mathematics, statistics, computer science, data science, and finance, we prepare our graduates to excel in various professional fields, equipping them with the necessary tools for successful high-quality Master's studies. This programme aims to cultivate leaders capable of making a significant contribution to the Mauritian economy and seizing promising opportunities on the international stage."
Post-Degree Opportunities
The BA in Economics and Finance (Hons) will prepare students to pursue higher studies in top Master's programmes in economics, finance, and data science, in France, abroad, or in Mauritius. For those who wish to enter the workforce directly, this Bachelor programme will open up professional opportunities in fields such as financial analysis, auditing, risk management, and many more. The university is also in discussions with other institutions and financial associations to negotiate exemptions, providing additional benefits to graduates of this programme.
For more information and to submit your application, please visit the Paris-Panthéon-Assas University website (assas-international.com) or contact us at (+230) 55 09 72 00.