Open position: Administration & Finance Assistant – Mauritius Campus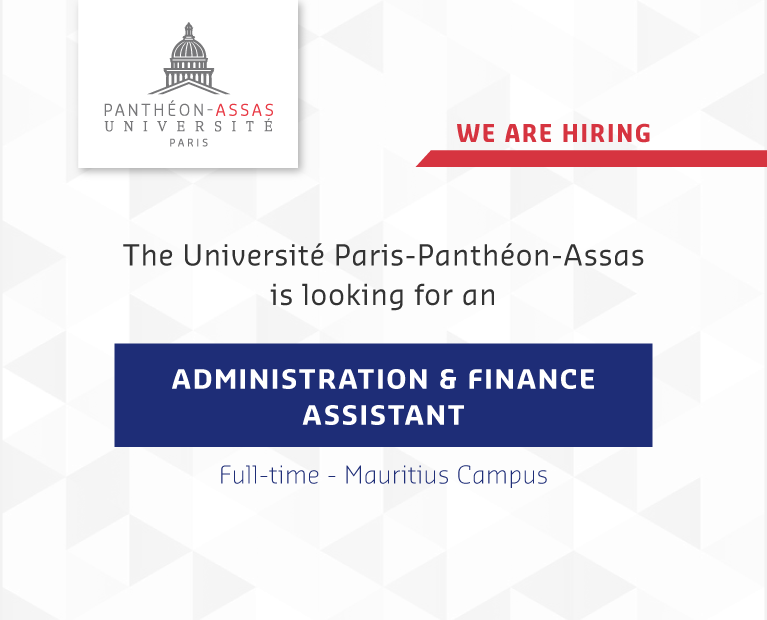 Subject: Administration & Finance Assistant – Mauritius Campus
Department: Université Paris-Panthéon-Assas – Royal Road, Pierrefonds (Mauritius) – contract from Sorbonne-Assas International Law School (Mauritius) Limited
What we do: Université Paris-Panthéon-Assas is considered as France's first law university and is home to the origins of French Law, with more than 800+ years of history. Present in Mauritius since 2015 and in partnership with Uniciti Education Hub, Université Paris-Panthéon-Assas currently offers a Bachelor of Laws LL.B. (Hons) as well as an LL.M. both taught in English by a blend of renowned professors from the Paris Campus of Université Paris-Panthéon-Assas as well as recognised Mauritian law practitioners and professionals. Strongly committed to expanding its global footprint, and consolidate its presence in Mauritius, Université Paris-Panthéon-Assas has recently invested in brand new premises within the unique and beautiful setting of the Pierrefonds Campus. We endeavour to further develop our programmes and expand our educational offer in order to attract a growing number of Mauritian as well as international students.
Reporting to: Administration & Finance Executive (Mauritius Campus), Dean of the Mauritius Campus and Executive Director (Mauritius Campus) – Université Paris-Panthéon-Assas
Main responsabilities:
Administration
Process requests for enrolled students (visa, authorisations, letters, bank transfers and all other document required);
Assist in drafting letters, emails and other documents;
Manage the classes timetable & booking of study spaces for students and professors;
Assist to organize and manage exams;
Ensure that enrolled students files and payment information are up to date on the CRM & ensure the transfer of all paper-based information to the CRM;
Request quotes from suppliers and follow-up with the payment process;
Book meetings as and when requested – including Zoom meetings for classes and other events;
Assist in the collection of information and preparation of files/requests from the Higher Education Commission (HEC), MQA (Mauritius Qualification Authority) and HRDC;
Attend the Assas Main Office front office to welcome students, prospects, professors & other guests and redirect them when required to the correct person/service;
Attend phone enquiries (university's main phone number);
Operation
Assist in the organization of on and off-campus activities;
Ensure that all provisions are made for classes to run smoothly (print documents for professors/students as and when required; liaise with the providers to ensure F&B is provided in a timely manner when applicable etc.)
Assist for simple IT-related queries (assist professors to set up their presentation for the class, ensure that the internet connection is operational; set-up Zooms & webcams for classes & activities and assist in simple IT-related matters);
Who we are looking for:
We are looking for a highly meticulous, well organised, detailed-oriented candidate. You must be a problem-solver with a can-do attitude, flexible, with a willingness to learn and open to feedback. You must possess excellent administration skills, be customer-oriented and ideally have experience in dealing with a variety of people in a professional and engaging manner, to uphold Université Paris-Panthéon-Assas values of excellence and commitment to provide top-notch education at the international level.
Qualifications:
Our ideal candidate holds at least a Bachelor's degree with 2-3 years of work experience. You must be fluent and have an excellent command in English and French. Basic IT knowledge (including Microsoft 365, Zoom, Adobe…) is a must. Since an important part of the job is to attend to student queries, we are looking for someone with exceptional listening and communication skills, who is confident and professional. You will need to be customer focused and be understanding of student needs with a highly professional attitude under all circumstances. Previous work experience in the education administration field and understanding of a university's operations will be a definite advantage.
*Important Note:
This is a full-time role, with flexible working hours based on classes requirements. Some classes may run in the evenings until 9pm, and some are occasionally conducted on Saturdays.
Please note we start screening CVs and interviewing candidates from the start of our recruitment campaign. A successful candidate could progress to offer before the advertised closing date. We encourage you to apply as soon as possible if you are interested in this role.
Interested candidates should submit their CV and motivation letter via LinkedIn or to ils.mauritius@u-paris2.fr with the subject APPLICATION – Administration & Finance Assistant by the 31.06.2022.