The SINGAPORE Campus is looking for a Relations & Marketing Officer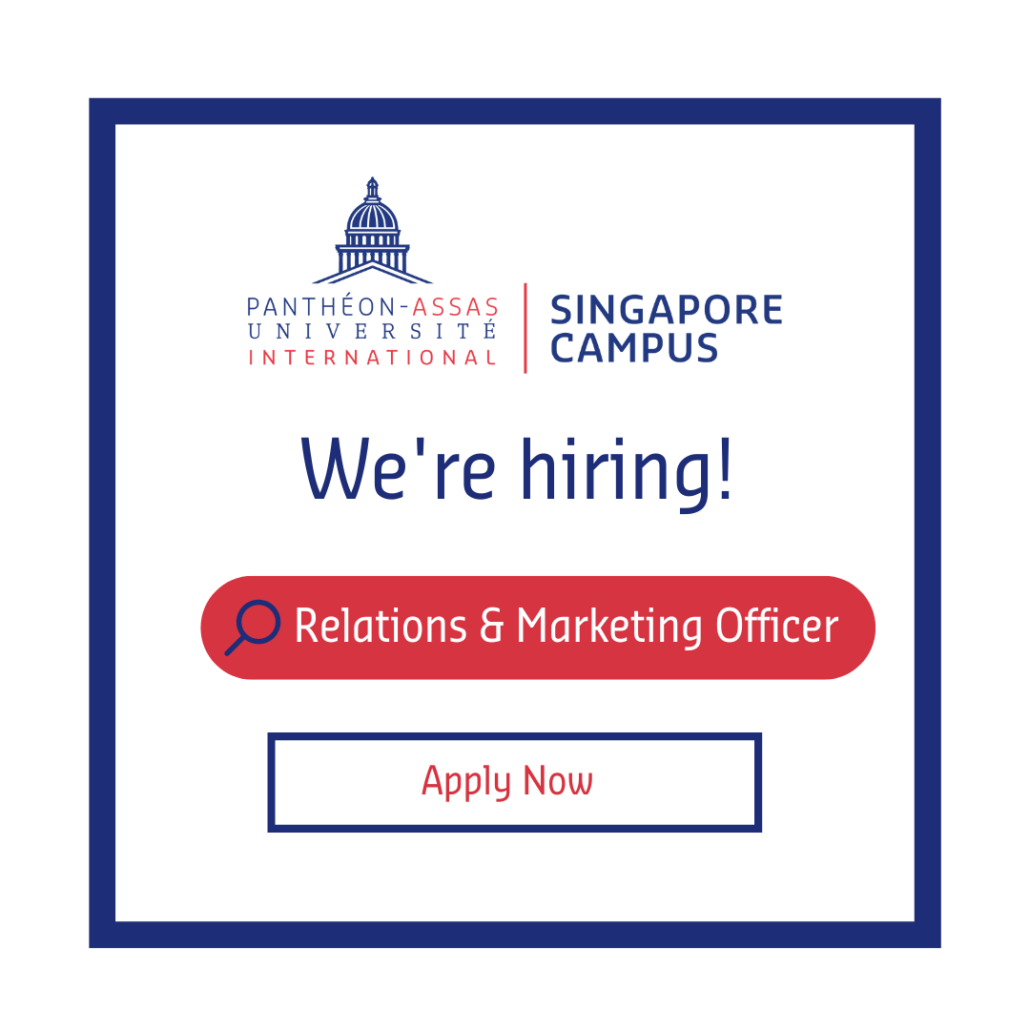 #AssasInternationalSingapore is hiring a Relations & Marketing Officer!
A career with us at Université Paris Panthéon-Assas, Singapore Campus is an opportunity to excel at one of France's leading universities. One that brings together diverse disciplines, knowledge and skillsets to foster an entrepreneurial mindset. So you grow with an organisation that constantly innovates. And an active player in the regional education sector.
Reporting to the Regional Development Manager (RDM), the Relations & Marketing Officer (RMO) partners the RDM in areas of engaging with students, providing personalised customer service and marketing efforts to optimise enrolment. The RMO will also work closely with other HQ departments to provide administrative, customer service support at centre level.
Major Responsibilities, under the supervision of the Regional Development Manager:
The RMO ensures continuous follow-up between the registered students and the participating professors/lecturers and the persons in charge of the programmes, in collaboration with the HQ Administrative Manager. The RMO also provides continuous monitoring of prospective students and existing students in direct liaison with the Regional Development Manager of the Singapore campus.
Missions and responsibilities:
Facilitate procedures for registered students (visas, student cards, access to classes/Zoom, printing services, etc.)
Facilitate procedures for professors/lecturers (hotel booking, transport)
Facilitate the university operations on the Singapore campus
Set up and manage the inventory of university movable property on the Singapore campus (books, computer equipment, promotional material, office furniture, etc.)
Manage the constitution of files and the implementation of procedures that will allow Assas International School (Singapore) to carry the accreditation of the programs of the University Paris Panthéon-Assas in Singapore
Manage the classroom schedule
Arrange and monitor exams
Management and monitoring of the payment of professors/lecturers and drafting of their contracts
Management of recruited students and monitoring of payments
Ensure that student records and payment information are updated on the CRM
Make appointments with partners as well as potential students
Requirements & Capabilities:
Diploma in Business / Communications / Customer Service / Marketing studies
At least 2 years of customer service and administrative experience
Strong communication, interpersonal and organising skills
Pleasant disposition
Proficient in Microsoft Office
Proficiency in French is a plus
Part-time or Full-time position.
Needs to be PR, SG Citizen or Student Pass holder.
Interested candidates should submit their CV and motivation letter to buci.chan@u-paris2.fr with the subject APPLICATION – Relations & Marketing Officer by the 18.08.2023. Position to start by the 1st of September.