Discovering Mauritius during a pandemic as a foreign student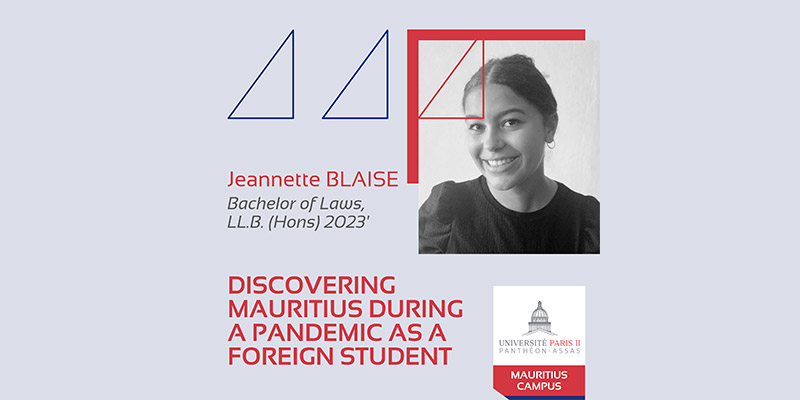 Jeannette Blaise – Bachelor of Laws, LL.B. (Hons) 2023'
Soon after receiving my acceptance letter from Paris II Panthéon Assas in January, I started researching apartments in Mauritius. I was so excited and I wanted to leave right away!
I found the perfect apartment a short time later and booked it immediately, little did I know a pandemic would break out, delaying my decision to leave my country. Nobody knew when the Mauritian borders would reopen, thus, in the hopes I could still leave in July, I kept my apartment and never lost hope, but the uncertainty was frightening – the border reopening was postponed every month and COVID-19 never seemed to end. Seeing no end to this pandemic really put a strain on everything and it was difficult to keep a positive attitude.
Just when everything seemed bleak, the borders reopened! This gave way to another problem: the student visa, which was strenuous to receive. Thus, my classes started online. However, because of the time difference of 3 hours, the lectures were super early for me. I did not complain as for other foreign students, the time difference was of 10 hours. It was very tiring and even though online learning has its positive outcomes, it was still a very stressful time.
As I grew tired of waiting, I decided to come to Mauritius on a tourist visa. This was quite risky because you cannot change from a tourist visa into a student one, but the end justified the means.
Besides, I had been paying for my apartment for months now, holding onto a small glimpse of hope for as long as I could. Additionally, around October, the weather was getting worse in Europe and better in Mauritius. I thought, in the worst scenario I still would've spent between 3 and 6 months on a beautiful island attending my online classes, and living a normal Covid-free life instead of spending winter in France.
The trip and the quarantine went by smoothly, everyone was so nice and welcoming. It was my first time traveling so far from home alone for such a long time, and I am so glad many people immediately took me under their wing and helped me out.
It took some time to adapt to the island life, for example, the transportation in Mauritius is different to what I am used to in France. And one common element I find amusing is the tardiness of the Mauritian people! I don't know if I'll get used to that. To be honest, sometimes it got so difficult to adapt that I even thought of flying back home. But, meeting the right people, making some friends and allowing myself to discover this beautiful island really helped open my eyes. I started to love the food, the people, the culture and hanging out at the beach. I even got to like these crazy bus rides – something I thought possible only in my wildest dreams! Alas, every good thing must come to an end; we started to see a rise in COVID-19 cases again. Everything shut down so fast – the gym, the beach, and the restaurants. I found myself alone in my apartment and it lasted 3 days until I wanted to go back home. It was good timing either way, as my tourist visa soon would've expired.
I took the first flight that left the island, with a heavy heart and with much regret, but it lifted my spirits knowing that next time, I would be more prepared.
I miss Mauritius everyday, and hopefully soon, I'll be eating "boulettes" on the beach again.