Mauritius Campus – new premises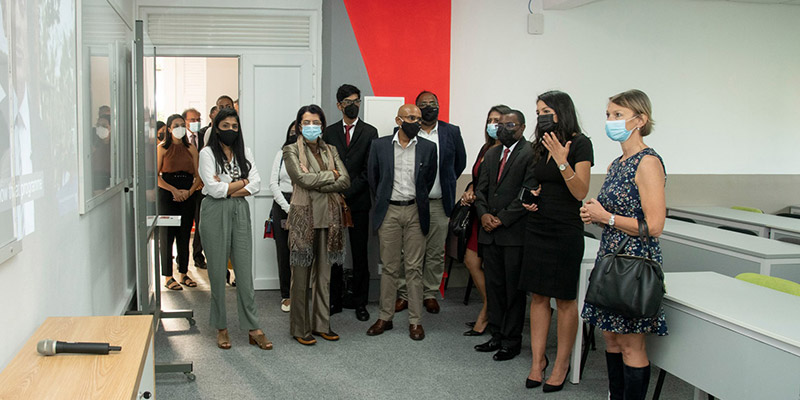 Strongly committed to expanding its global footprint, and consolidate its presence in Mauritius, Université Paris 2 Panthéon-Assas has, this year, invested in brand new premises within the unique and beautiful setting of the Pierrefonds Campus.
The unveiling of the new setting was graced by H.E. Florence Caussé-Tissier, Ambassador of France to Mauritius and her colleague Patrick Parrot, Educational Cooperation Officer from the Ambassade de France à Maurice, in the presence of Ekaley Joulia, Executive Director of the Mauritius Campus, members of higher management of our partner, the Medine Group, namely Dhiren Ponnusamy, CEO of Medine Group, Steena Kistnen, General Manager of Uniciti Education Hub and Javesh Boodnah, Chief Financial Officer and Head of Technology of Medine Group, along with students.
Despite his absence on this special occasion, in the context of the global pandemic, Professor Anthony Mergey, Dean of the Mauritius campus, wanted to share the spirit and purpose of this new facility of Université Paris II Panthéon-Assas, "While the sanitary crisis which has impacted all our lives has pushed us to reinvent our ways, adopting innovative solutions to cater for new methods of delivering quality education, above all, we wanted to enhance the experience of our law students through added lifestyle and dedicated amenities. Our students today have a newly-designed administrative space to go to, a cosy and spacious student lounge and library, as well as technology-equipped classrooms for added experience whether in-person or online (if required by exceptional circumstances). We are more than happy to welcome our new student cohort as well as our existing students."
⟶ More info :