Paris-Panthéon-Assas University joins the 4EU+ Alliance

Paris-Panthéon-Assas University has officially joined the 4EU+ Alliance on July 1st, 2023, becoming the eighth institution to join this collaborative initiative aimed at establishing a comprehensive research university. The integration of Paris-Panthéon-Assas University into the alliance was unanimously approved by the 4EU+ Governing Board. With its rich academic history, diverse study programmes, and international presence, the university brings valuable expertise and resources to the alliance.
The integration is expected to enhance collaboration through joint programmes, increased mobility opportunities for students and staff, as well as the pursuit of common research projects. The university's focus on law and its keen interest in multidisciplinary research align well with the alliance's emphasis on innovation and interdisciplinary approaches.
Stéphane Braconnier, President of Paris-Panthéon-Assas University, expresses the university's aspirations, stating that joining the 4EU+ Alliance will enable them to further invest in multidisciplinary research on important contemporary topics such as sustainable development and artificial intelligence. The university is grateful to all the alliance members for their trust and support, with special appreciation extended to Sorbonne Université for their guidance throughout the application process.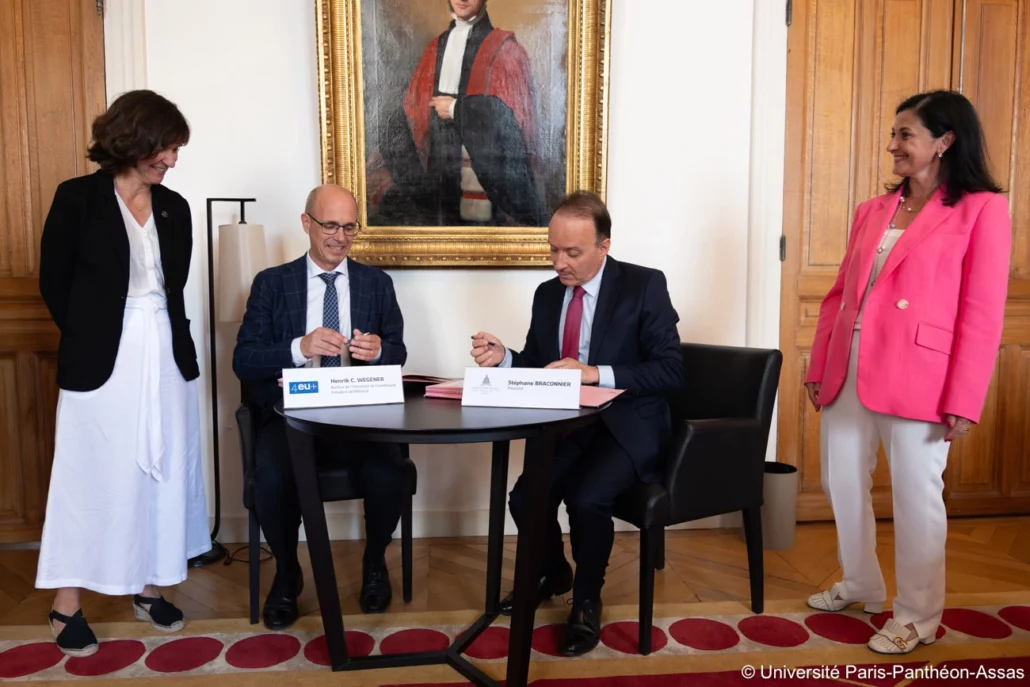 About the 4EU+ Alliance:
The 4EU+ Alliance, founded in 2018, aims to strengthen cooperation in higher education and contribute to the development of a truly integrated European University System.
4EU+ is one of the European University alliances selected for funding in 2019 in the first Erasmus+ "European Universities" pilot call and further supported by the EU following the renewal funding call of 2021 with the 1CORE project. The Alliance's also received funding in the framework of Horizon 2020 with the Science with and for Society project TRAIN4EU+.
Read the full article on Paris-Panthéon-Assas University:
English version: https://www.u-paris2.fr/en/paris-pantheon-assas-university-joins-4euplus-alliance
French version: https://www.u-paris2.fr/fr/luniversite-paris-pantheon-assas-rejoint-lalliance-4euplus
Image Source: Université Paris-Panthéon-Assas