2020

 SUMMER COURSE
Monday 6 July 2020 to Friday 17 July 2020
INSEAD / 1, Ayer Rajah Avenue / Singapore 138676
The Sorbonne-Assas International Law School Summer Course is a 2-weeks course taking place in July in Singapore. This unique programme is open to students and professionals who want to have a first approach of international business law.
This outstanding Summer Course will allow participants from all over the world to understand various practices related to the related to the M&A in Technology, Project Financing in Infrastructure and Technology rules and practices and International Contracts and Electronic Commerce Transactions.
The Sorbonne-Assas International Law School Singapore campus is located in the INSEAD Business School campus, easy access and relaxed environment. The Summer Course is also an opportunity to discover the city of Singapore.
PROGRAMME DATES
Welcome Day & Cultural Visits
Date: 6 July 2020
Seminar 1
M&A in Technology by C. Bérubé
Date: 7 to 9 July 2020 – 10 hours
Visit of the Supreme Court
Date: 10 July 2020
Seminar 2
Project Financing in Infrastructure and Technology by A. Wong
Date: 13 to 14 July 2020 – 10 hours
Seminar 3
International Contracts and Electronic Commerce Transactions by M. Petsche
Date: 15 to 17 July 2020 – 10 hours
Networking & Farewell Drink
Date: 17 July 2020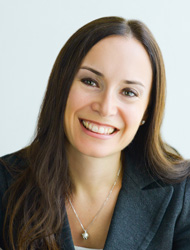 Caroline Bérubé
Managing Partner of HJM Asia Law (with offices in China and Singapore)
Caroline Berube is the Managing Partner of HJM Asia Law, a boutique law firm with offices in China and Singapore. She is admitted to practice in New York and Singapore and holds a BCL (civil law) and an LL.B. (common law) from McGill University (Montreal, Canada) and studied at the National University of Singapore with a focus on Chinese law in the 90s. Caroline has been working in Singapore, Bangkok and China for British and Chinese firms prior to establishing her own firm 13 years ago.
Based in Asia since 1998, Caroline represents SMEs, MNCs, foreign banks and private equity firms in the Asia Pacific region dividing her time between the offices in China and Singapore. She focusses on M&A cross-border transactions, commercial law and intellectual property matters like licencing and technology transfer, areas in which she has developed a respected expertise and understanding of the challenges and advantages of most Asian jurisdictions. Caroline advises clients in various industries, including manufacturing, technology, entertainment, agriculture, trading, e-commerce and services. She is an arbitrator approved by the Chinese European Arbitration Center (CEAC) and a foreign arbitrator appointed by the China International Economic and Trade Arbitration Commission (CIETAC).
Caroline has been featured in numerous magazines and newspapers, including Bloomberg, the Straits Times, the Business Times, Les Affaires and La Presse and is a regular speaker at international conferences. She has lectured twice a 45-hour course on Chinese law at Université Laval (Canada), and currently lectures annually at Bocconi University and at the Sorbonne Assas Law School on legal corporate structures, M&A, IP/Technology, employment law in Asia. Caroline was selected in 2015 as a Young Global Leader by the World Economic Forum.
Caroline is the Co-Chair of the China Working Group of the International Bar Association ("IBA"), past officer of the IBA Intellectual Property Committee and was appointed as a IBA Legal Practice Development Officer from January 2019 to December 2022. A firm believer in entrepreneurship, Caroline formed her own international foundation to work with young entrepreneur between 16 and 25 years old.
She is the author of the practical book "Doing Business in China" published by Lexis Nexis in French and English.
Paris-Panthéon-Assas University | International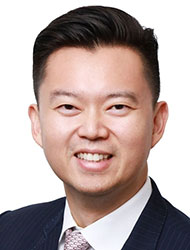 Adrian Wong
Partner - CMS Singapore | Energy, Projects and Infrastructure
Adrian is a seasoned energy and infrastructure lawyer. He is qualified in both English and Singapore law.
Adrian has advised stakeholders across the energy value chain from oil and gas companies, LNG traders, power generation (conventional and renewables), transmission, petrochemical and construction companies on their projects internationally.
Adrian has provided comprehensive and integrated advice on all aspects of energy and infrastructure project development as well as in relation to acquisitions and disposals. These include advising equity sponsors investing into projects, government authorities granting project concessions; lenders providing project financing (and other forms of financing) to projects, EPC contractors, feedstock and utilities suppliers and potential off-takers and O&M service providers.
In addition to his in depth experience in the conventional energy space, he has an increased focus on "new power" (including storage, energy management and smart grid applications and instruments) as well as renewables projects, including hydro, wind and solar.
Paris-Panthéon-Assas University | International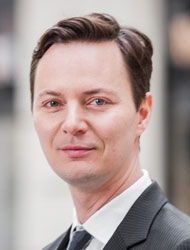 Markus Petsche
Associate Professor - Central European University (Budapest)
Markus Petsche is an Associate Professor at the Department of Legal Studies of Central European University (Budapest) where he teaches International Commercial Arbitration, International Investment Law, International Business Transactions, and Private International Law.
He is Of Counsel at Petsche Pollak (Vienna), focusing on complex international commercial disputes. His scholarly work, cited extensively in the relevant literature, has been referred to by the Supreme Court of Oregon and relied upon in litigation before the US Supreme Court. Prior to embarking on an academic career, Markus Petsche served as a deputy counsel at the Secretariat of the International Court of Arbitration of the International Chamber of Commerce and practiced international arbitration with Gide Loyrette Nouel (both in Paris). Markus Petsche regularly serves as arbitrator and mediator in international business disputes.
Paris-Panthéon-Assas University | International